New Denver hotel allows marijuana use
New Denver hotel allows marijuana use
DENVER — In LoDo, the Nativ Hotel is set to open. Thursday through Saturday there will be a series of functions to welcome the boutique hotel that allows marijuana use.
"We have something for everyone here at Nativ," said owner Mike Alexander. "We have door bells on rooms, living plant walls on our outdoor patios where guests can consume marijuana on their stays, the Stereo Lounge in the basement, and original art work throughout the hotel. We even have a coffee bar specializing in CBD infused lattes."
The rooms have all glass showers, the champagne suites have self-cleaning hot tubs and there is a lunch/happy hours lounge called Pourtions. The cannabis friendly hotel is the first of its kind in Denver. Some of the rooms even have the Monsieur Bartenders … meaning no more mini-bars. This pour system allows for customers to make up to 800 combinations without ever leaving their room.
Co-owner Richmond Meyer said, "We chose the name Nativ because we want everyone—no matter where they are from—to feel as if they are a native Coloradan while they are here. Our goal is to allow everyone to have an awesome time for however long they stay with us."
The Nativ is staging three days of understanding between Thursday and Saturday. Grand Opening is Thursday night. Expect a big crowd as the new cannabis hotel is going to be the spot to be.
———————————————————————————————-
Stoners get high on love with marijuana dating sites
Pot smokers are tired of getting burned by would-be dates after revealing that their habit – so they are turning to new dating websites that cater to their interests.
REUTERS
Thursday, September 18, 2014, 12:30 PM
SAN FRANCISCO — Dinner and a movie make for a typical date night but dinner followed by a joint could raise some eyebrows or be a turn-off despite increasing acceptance of marijuana use across the United States.
So now, tuned-in stoners and users of medical pot are turning on to dating websites that cater exclusively to tokers or, at the very least, the "cannabis friendly" to avoid experiencing what they describe as all-too-frequent shock and rejection on the dating circuit.
That has worked out well for a Vietnam War veteran from Michigan who works in the automotive industry and smokes to deal with the pain caused by chemotherapy treatment for hepatitis C.
Larry, who asked to be identified only by his given name because of the legal issues surrounding marijuana use, says he is "very much enjoying" dating a woman he met on the dating website 420singles.net. The site name corresponds to a numerical code widely recognized within the cannabis subculture as a symbol for all things marijuana.
"She lives near me but we wouldn't know about our shared medical marijuana use if we hadn't connected on the site because no one discusses pot smoking in my circles," he said.
Larry's go-to website, with nearly 23,000 members, was the brainchild of 28-year-old California entrepreneur and self-described stoner Ryan Moxon of Marin County. About three years ago he dreamed up the idea for the site while yearning for the girl of his dreams: one who smokes pot.
Membership is concentrated on the U.S. West Coast but also includes international smokers and has ballooned since voters in Washington state and Colorado opted to legalize recreational marijuana use in 2012.
Voters in Oregon, Alaska and the District of Columbia will vote in November on the issue, and the New York Times in July called for the repeal of the federal ban on marijuana for those over the age of 21.
"It's suddenly much cooler to come out as a toker," Moxon said of his site, which he says eliminates awkwardness about smoking.
A newer website launched several months ago "aims to connect those with a passion for cannabis," said Miguel Lozano of Los Angeles, founder of My420mate.com with some 6,200 members.
POTENTIAL INVESTORS
Lozano, a medical marijuana user who enjoys pot to ease sports injury pain, is eager to counter the image that cannabis lovers are "merely hippies," he says.
"There's a stereotype that pot smokers are lazy, isolated and lonely. They're not," he said. "They're the life of the party, they're often professionals and ambitious business people, and they make good partners."
Lozano and Moxon are hoping their sites will become ad magnets for the burgeoning number of legal marijuana dispensaries and related products. Both sites already have drawn interest from potential investors, they say.
Legal pot sales alone are expected to reach $10 billion by 2018, according to The ArcView Group, a marijuana industry investment company in San Francisco. Sales of pot-related products, from dope-infused health bars to cannabis-laced sexual lubricant, are among products expected to skyrocket.
Another man, from Missouri, is dating a woman he met on Lozano's site. He classifies himself as a "recreational to daily" pot smoker. His new love interest smokes less but "she's totally cool with that," said the man, who asked that he be identified only by his given name, Corey, because marijuana use is illegal in his state.
Although it's important to Corey that a date shares or is tolerant of his pot use, he believes would-be partners also have the personality he relates to.
"Smokers come from all walks of life but they tend to chill back," he says. "When I go out with buddies who get wasted on alcohol, it can be embarrassing. With my cannabis-smoking pals, we relax and let the creativity unroll."
——————————————————————————-
Pot Tourism: How to Buy Marijuana in Colorado
Posted by
Kevin Fixler
on March 26, 2014 at 1:00:00 PM EDT |
contact MCGD Consulting of Boulder Colorado for Marijuana Consulting & Questions 720-232-6096
The lines to get into the recreational dispensaries have shortened, but still not completely disappeared, and all of the Mile High City jokes have been made. Even Stephen Colbert has addressed the topic at length on The Colbert Report. But the question remains: What does Colorado's recent legalization of recreational marijuana mean for tourists? Here are eight tips for out-of-towners to keep in mind:
1. The Crop Keeps on Growing
The expansion of pot shops around Colorado seems to be increasing by the day. When the new law allowing recreational sales took effect on Jan. 1, 2014, eager customers waited for hours in prolonged lines for entrance into 18 licensed storefronts. The number of recreational dispensaries in the Denver-metro area has now tripled since that time, with more than 30 new stores springing up around the city. In total, 160 licenses have been issued statewide as of this writing.
2. Sifting through the Smokescreen
Locating these retailers, however, is easier said than done. There is no mention of them on the official websites of the Colorado Tourism Office and Denver Visitor Bureau in their lists of attractions. Instead, visitors should use either Weedmaps.com or Leafly.com to find the nearest location; pick up a copy of Denver's alt-weekly newspaper Westword for the latest pot-related news; or simply ask a local, as word of mouth tends to be the prevailing form of spreading the news on a recently opened location.
3. Different Tokes for Different Folks
There are myriad environments from store to store—from high-end boutiques to mom-and-pot shops—that cater to different customers. Before your trip to Colorado, it's worth doing some online research to find a preferred destination that suits your comfort level and shopping desires.
4. Pipe Dreams
Once you've arrived at your desired retailer, which is usually accompanied by green signage that makes allusions to "care" and "wellness," it's time to select your product of choice. You'll find a wide array of with varying objectives and effects: smokeable indicas, sativas, and hybrid strains; hash oil; edibles; topical creams, and more.
5. Budding Rules for Purchase
The availability of recreational marijuana does come with several constraints and restrictions, of course. First and foremost, purchasers must be at least 21 years of age and are asked to provide identification before entrance. Next, based on ID alone, anyone with an out-of-state license is treated as a non-Coloradan, which limits the amount of marijuana that may be purchased. While Colorado residents may buy up to 1 ounce (a little more than 28 grams) at a time, visitors can take away only 7 grams, or the equivalent of a quarter-ounce.
Visitors can still purchase a wide range of products with this small amount. The dosage in each edible, for instance, is about 10–25 milligrams, so travelers can depart with an abundance of chocolates or mints. Lastly, all marijuana must leave the premises in an opaque, childproof container or bag, which is thrown in upon purchase or, in some cases, provided at minimal cost.
6. Cash for Grass
As for what you'll pay to take advantage of the Colorado's recreational law, a gram of marijuana on average runs between $10–$20, depending on what you buy. Topicals also vary in price, but $20 is the standard charge. While cash is always an accepted form of payment, most dispensaries around the state also accept credit cards.
7. Smokeless in Public
Now that you've bought your weed legally, it's time to light up, right? Not so fast. Whether in edible or smokeable form, marijuana use is prohibited in any public space, including on streets, at parks, and spots like hotel balconies that are visible from public spaces. In addition, the Colorado Clean Indoor Air Act, banning smoking in restaurants, venues, and most bars, was amended to include marijuana. It comes with fines of up to $500 for violation. Consumption in motor vehicles or public transportation is also illegal.
The law, however, allows for use in private residences, and a recent public smoking statute provides that decks, garages, and patios are also permitted. Although a slew of concerts and comedy shows now advertise as being "4/20 friendly" and the security at the venue might turn a blind eye, it's still not technically legal by the letter of the law.
Private membership–based smoke clubs such as iBake Denver and luxury cannabis tours that offer smoking areas, like Colorado Green Tours, are alternatives, but remain in something of a legal gray area as legislation continues to be hashed out. Cannabis-friendly hotels are also popping up, but are few and far between at the moment. On the whole, such options are on the rise as the state continues to wrestle with the application of the law.
8. Smoke 'em if You Got 'em … Before You Leave Colorado
Per federal law, marijuana remains illegal recreationally in nearly every other state at this time, so you cannot take your legal Colorado purchase with you across state lines. The drug is also listed on the airport Transportation Security Administration's (TSA) list of prohibited items; as of January, Denver International Airport formalized its policy banning possession of pot on its premises, coming with it a $150 fine for a first offense, $500 for a second, and $999 for any thereafter. Unfortunately, what you buy in Colorado must stay in Colorado.
Kevin Fixler is a Denver-based writer who holds a master's from UC Berkeley. His work has appeared with Sports Illustrated, The Atlantic, and The Daily Beast.
Photo Credit: © Steve Keller | Dreamstime.com

Meet The Children Who Rely On Marijuana To Survive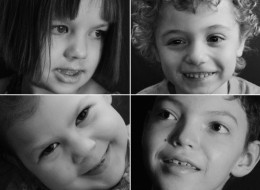 Photos by Nichole Montanez show children who have begun or hope to begin medical marijuana treatment.
Since he was just a few months old, 10-year-old Zaki Jackson has suffered from a rare form of epilepsy that, at its worst, causes him to have thousands of seizures a day. The seizures, which his mother describes as a "full body electrocution," render him unable to talk or walk, and sometimes cause him to stop breathing.
Over the past decade, his family has tried to combat his syndrome with 17 different pharmaceutical medications, a specialized diet and alternative forms of therapy like acupuncture. The various medications have caused him to gain weight, become incoherent, experience extreme cramping and lose his ability to sleep, but they've never stopped the seizures.
"His brain could never function well," Dr. Margaret Gedde, one of Zaki's doctors, told The Huffington Post. "He could never be present."
Gedde recommended Zaki start taking a strain of medical marijuana that's high in cannabidiol, a non-psychoactive ingredient known for treating seizures, and low in THC, which causes pot smokers to feel "high." Since Zaki began the treatment more than a year ago, he has been seizure-free.
"He had 10 years of nonstop seizures and sedating medication," Gedde said. "He's now able to start developing as a normal child. He's a delightful, charming kid. Before that he couldn't even be in contact with people. It was a dramatic, complete change."
Zaki is one of more than 180 Colorado children currently being treated with a special strain of medical cannabis that's helping to combat their extreme seizures and other debilitating conditions. The strain, known as "Charlotte's Web," was developed by a group of brothers who run the Realm of Caring Foundation in Colorado Springs. It is named for 7-year-old Charlotte Figi, whose successful treatment was featured in Dr. Sanjay Gupta's CNN documentary "Weed" last year.
Charlotte's Web and similar strains are administered in liquid or capsule form and, Gedde says, produce little to no side effects. Because of the low THC count, users don't experience a traditional marijuana high.
"It's amazing; it's completely remarkable," Gedde said. "It does stop seizures. It doesn't hurt them."
Marijuana has a long history of effectively treating seizures. In 1843, British Army doctor William O'Shaughnessy published an article documenting his use of cannabis oil to stop an infant's near-constant convulsions. But because marijuana remains illegal on a federal level, modern research scarcely focuses on the plant's medical benefits.
The use of cannabis treatment in cases like Zaki's is "groundbreaking, in that we haven't had the chance to document this," Gedde explained. "We're trying to pull the experiences of these parents into publishable work. Animal and laboratory studies help support and explain what we see."
Gedde, who holds a doctorate in biophysical chemistry from Stanford University, spent years in the pharmaceutical industry before switching to a focus on alternative medicine. She recently decided to dedicate her Colorado-based clinic solely to medical cannabis.
"I realized the substances being chosen for development in the pharmaceutical industries weren't necessarily the ones that patients need," she said. "Marijuana can do all these things, but it's not toxic or harmful."
Since the story of Charlotte's recovery made national news, hundreds of families in similar situations have relocated to Colorado from states where medical marijuana is illegal in the hopes that their sick children might experience the same results. More than 100 families are currently on a waiting list for Charlotte's Web.
Hailey McGuire, the 7-year-old niece of Colorado-based photographer Nichole Montanez, is one of the children on that waiting list. Hailey suffers from Dravet Syndrome, the same severe form of epilepsy that causes Charlotte's seizures. "We've said goodbye to her a number of times," Montanez said. "When she was four, she was placed into a medically induced coma."
Montanez began volunteering at support groups for families in similar situations. Last August, she launched a photography project, Face of Cannabis, featuring portraits of Zaki, Charlotte and other children who use marijuana to treat their debilitating symptoms.
"I identified with each child as if they were my own," she said. "They have feelings, they laugh. I want that to be what people see when they look at the project — not the disease or the brokenness, just the child."
Realm of Caring isn't the only clinic to successfully treat sick children with medical marijuana. California's Harborside Health Center, which the Obama administration has been threatening to shut down for years on the grounds that it's become "too large" of an operation, provides low-THC cannabis tinctures to a number of young patients. Gedde pointed to another program in Michigan and added that a number of small-scale providers are beginning to treat children in states where the plant is legal for medicinal use.
And in states where medical cannabis remains illegal, individuals are fighting for sick children to have safe access to the plant. A coalition of Mormon mothers in Utah recently formed an advocacy group with the support of their conservative state representative. State Rep. Allen Peake, a Republican lawmaker in Georgia, unveiled a bill earlier this month that would legalize cannabis oil, a move inspired by Peake's visit with a constituent's daughter who suffers from hundreds of seizures a day. Florida legislators are currently considering a similar measure.
Montanez said she herself was opposed to legalizing medical marijuana until she saw the effect it could have on sick children. She hopes others with similar beliefs will see her photographs.
"My ultimate goal is that people might be open to the possibility that there's a better way — that cannabis is a medicine," she said. "Kids across the country and internationally should have access to this medicine."
Below, take a look at Zaki, Charlotte and many of the other children Montanez has photographed, who are either using marijuana for their symptoms or waiting for access so they can begin treatment.
Maggie, 20 months old

Photos by Nichole Montanez

Maggie has been suffering from seizures since she was six weeks old, and has

hundreds of seizures on any given day

. Her family relocated from Tennessee to Colorado late last year to use a combination of intensive therapy and cannabis oil to treat her symptoms.
Hunter, 7 years old

Photos by Nichole Montanez

Hunter suffers from intractable epilepsy and developmental delay. He's been on numerous medications that have failed to alleviate his seizures and he continues to decline "cognitively, physically and emotionally,"

according to his mother

. He recently started cannabis treatments in the hopes that cannabidiol can provide relief.
Piper, 2 years old

Photos by Nichole Montanez

Piper was born with a rare genetic disorder that causes her to suffer from seizures and has rendered her non-verbal, unable to crawl or walk and visually impaired. She has been on nine medications to try to treat her symptoms, and

started taking cannabis oil

last October. Since she began taking a low dose of cannabis, her family has begun to see small improvements.
Calvin, 14 years old

Photos by Nichole Montanez

Calvin has an extreme form of autism that has rendered him nonverbal. After 22 days of taking cannabis, he has begun using words to communicate. According to his mother, he used to have up to 20 head-beating episodes per day, and has only had one episode total in the three weeks he's been using cannabis. "I cried everyday for the first week of him using cannabis,"

his mother wrote on Montanez's blog

. "We no longer had to pull over and restrain him on our way to therapy."
Sydni, 9 years old

Photos by Nichole Montanez

Sydni suffers from Doose syndrome, which causes her to have up to thousands of seizures each day. She functions at the academic level of a three-year-old and

takes nine different medications

. Her family recently started her on cannabis oil in the hopes that it will reduce her seizures.
Emily, 4 years old

Photos by Nichole Montanez

Emily suffers from a

debilitating form of epilepsy

that has yet to be diagnosed. Her family recently moved from Indiana to Colorado in the hopes that a cannabis prescription will help ease her seizures.
Jordan, 18 years old

Photos by Nichole Montanez

Jordan was diagnosed with Dravet syndrome when she was six months old and has

suffered from seizures for her entire life

. On her worst days, she's unable to eat, drink or function. Her family recently relocated from Cleveland to Colorado to try cannabis treatments.
Tyler, 11 years old

Photos by Nichole Montanez

Tyler has a rare, drug-resistant form of epilepsy called Lennox-Gastaut Syndrome. He has spent

months living in the hospital

and has been placed in two medically induced comas. He began taking a low dose of cannabis in October and his family has begun to see "small victories."
Kennedee, 2 years old

Photos by Nichole Montanez

Kennedee was born with Walker-Warburg Syndrome, a severe and rare form of muscular dystrophy that claimed her older sister's life when she was just two months old. When Kennedee was born, she was only given a few months to live. Since starting her cannabis treatment, "we have seen a personality we didn't know she had," her mother

wrote on Montanez's blog

.
Charlie, 6 years old

Photos by Nichole Montanez

Charlie suffers from Dravet Syndrome and has

seizures in the middle of the night

, every night. His family hopes his use of cannabis oil will make him able to communicate and reduce his dependence on other drugs.
Cora, 6 years old

Photos by Nichole Montanez

Cora was born with a rare multiple-malformation syndrome that causes her to have body and head overgrowth and various abnormalities of her brain, limbs and vascular system. She also suffers from

dozens of seizures a day

, has undergone multiple surgeries and uses a head switch to communicate. Her parents are beginning to explore cannabis treatments as a means for relief.
KC, 9 years old

 Photos by Nichole Montanez

KC has suffered from multiple daily seizures since he was three years old and has yet to respond to any treatments. After two weeks using cannabis, he

began exhibiting progress

. "A boy who would previously wobble and stumble as he walked was now running up hiking trails and jumping into his dad's arms," his mother wrote on Montanez's blog. "He has even been cracking jokes!"
Charlotte, 7 years old

Photos by Nichole Montanez

Charlotte used to suffer from more than 40 seizures per day, and now,

according to her mother

, "her wheelchair and seizure helmet are in storage collecting dust." Charlotte was the first child in Colorado to be treated with cannabis oil, and her story inspired the name "Charlotte's Web," which is the high-cannabidiol, low-THC strain used to treat other children with similar conditions.
Zaki, 10 years old

Photos by Nichole Montanez

Since he was just a few months old, Zaki suffered from up to thousands of seizures per day.

He has been seizure-free

since he started taking cannabis oil more than a year ago.
BUSINESS NEWS
January 19, 2014 | By Hugo Martin
Colorado Springs Airport recently installed three green metal containers in the terminal where travelers can deposit marijuana, which is legal to buy in Colorado but banned in the airport. Sorry, but the airport is not taking job applications for amnesty box attendants. With recreational marijuana now on sale in Colorado, Denver International and Colorado Springs airports have made it clear that travelers cannot bring pot through their facilities. Even medical marijuana is forbidden.
NATIONAL
January 19, 2014 | By Maria L. La Ganga
SEATTLE – The new year is shaping up to be one of the marijuana movement's strongest ever. The first legal pot storefronts in America opened to long lines in Colorado 20 days ago. Washington state is poised to issue licenses for producing, processing and selling the Schedule I drug – once officials sift through about 7,000 applications. Signature gatherers have been at work in at least five states, including California, to put marijuana measures on the ballot in 2014. On Wednesday, organizers announced they had gathered more than 1 million signatures in favor of putting a medical marijuana measure before voters in Florida, a high-population bellwether that could become the first Southern state to embrace pot. "Florida looks like the country as a whole," said Ben Pollara, campaign manager for the Sunshine State's effort.